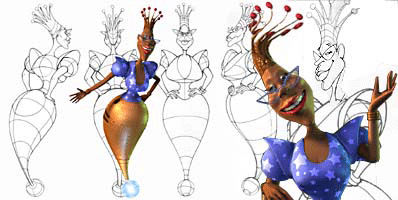 Cyberine character: design: M.Tesamarck. Voice: Whoopi Goldberg
Creation of the graphic's univers of cybertoon:
P3K-PINOCCHIO-3000
3D full lenglt feature animation film .
Voices of character: Whoopi Goldberg, Malcolm McDowell.Howie Mandel,

Picture realisator: Daniel Robichaud .
Supervised production of digital effects and character animation for: Titanic, Terminator 2-3D, The Fifth Elément, Apollo 13, Tightrope, The Scorpion King.
Animation: Christian Garcia.
FILMAX -CINEGROUPE- ANIMAKIDS.
LINKS:
http://www.cinegroupe.ca
http://www.filmaxanimation.com/pinocchio/ http://www.danielrobichaud.com
http://www.pan-europeenne.com
http://www.cinemotions.com/liste_artistes/T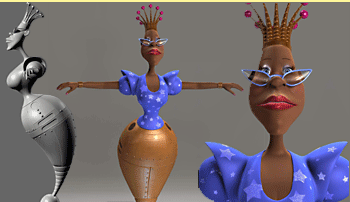 Histoire:
Nous sommes en l'an 3000. Le chercheur Geppetto a
crée un petit robot muni d'un super-microprocesseur doté
d'imagination : le P3K. Gepetto donne à son petit
robot le nom de Pinocchio.
Scamboli, le dictateur mégalo de la ville, est jaloux
de la trouvaille de Gepetto, il est également jaloux de l'amitié
qui existe entre Pinocchio et sa fille Marlène.A l'aide de ses amis, Pinocchio combat Scamboli et remporte la victoire. En réconpense, la fée bleue le transforme en un véritable petit garçon.
History:
This update on the classic fairy tale of Pinocchio is set in the year 3000, where an ever-kindly Geppetto has built a robot boy equipped with human emotions. In an entirely technological city, ruled by progress-obsessed Mayor Scamboli, children struggle to retain a place for play in an ultra-efficient world. Meanwhile, Geppetto and his assistant, Spencer the Cyber Penguin, perfect their prototype. But Cyberina the holographic fairy has decreed that he must earn his heart by learning the difference between right and wrong before he can be a real boy. Some of the main characters are voiced by Malcolm McDowell , Howie Mandel, and Whoopi Goldberg
Réalisateur: D. Robichaud.
Coproducteurs: Cinégroupe, Animakids,Castelao,Filmax.
Scénario: Claudio Scasso, d'après une adaptation de Carlo Collodi.

Graphisme: Marcos Testamarck pour les personnages prnicipaux.
J. B. Andréae pour les personnages secondaires
Okidoki Studio pour les décors
Voix des personnages: Whoopi Goldberg,
Howie Mandel,
Malcolm McDowell.
Maxime Baudoin,
Eric Metayer,Marc Altos .

Animation : Christian Garcia